Alicia Keys Announces 'Set The World On Fire' Tour With Miguel & Dates!!!
Alicia Keys is definitely a girl on fire!!! The songstress is set to embark on a 24-cities on the tour with Kaleidoscope Dream singer, Miguel who will open for her. The "Adorn" singer spoke about joining the tour saying,
"This tour is definitely going to be on fire! I love Alicia because whether it's 5 or 500,000 people she's performing for, she exudes this hypnotic honesty and a transparent artistry. I think that's what this tour will be remembered for the most."
Alicia also spoke about the concert:
"I can feel the energy of this upcoming year building and I couldn't be more excited to go on tour with the new album and I'm thrilled to have the insanely talented Miguel join me.

"Girl On Fire" has been such an empowering and freeing experience for me as an artist. I can't wait to discover how the new and familiar faces I see on tour embrace the music and the journey I've taken."
Below are the tour dates: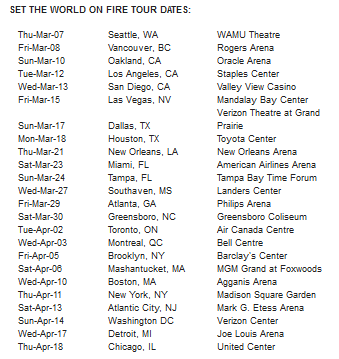 This is a concert you don't want to miss!!! Will you be going?
Join the conversation on Twitter@JustTheFab for all your Celebrity News & Updates!
The Fab Life. Love It. Live It…www.JustTheFab.com
No trackbacks yet.
about 2 days ago - No comments
I caught up with super producer, Swizz Beatz at the SESAC Pop Awards in NYC. He gave me the scoop on Jay-Z's highly anticipated new album and also speaks on Lauryn Hill's unfair jail sentence!!! Watch my exclusive interview with the hit maker below: Your thoughts? Join the conversation on Twitter@JustTheFab for all your Celebrity